When it comes to interior design, the possibilities for personalization are almost endless. From changing colors and patterns to adding bold artworks or lighting fixtures, each home feature can be tailored exactly to your taste. But what about those tricky spots that you need to learn how to optimize? The staircase is often one of these areas where homeowners struggle; check this out, an under stairs bench could be the answer! With a few simple steps (and no remodelling required!), you can transform a previously unused space into an eye-catching seating area with plenty of storage capabilities – all while making your stairway more attractive and inviting! Read on to learn more about this tricky DIY project.
How a DIY under stairs bench can add comfort and functionality to your home
DIY under stairs benches are a great way to add functionality and comfort to your home. Not only do they provide seating, but they can also be used as a place to store items or even hide away extra clutter. With some simple tools and materials, you can create a beautiful bench that will fit perfectly under your staircase.
The first step in building an under stairs bench is deciding what kind of design you'd like to create. You could opt for a more modern look with sleek lines and minimal woodwork or go for something more rustic with lots of intricate carved details. Once you've chosen the style, it's time to start shopping for the necessary supplies. Most DIYers prefer plywood for its strength and affordability, but you could also use solid wood if you're looking for more of an upscale look.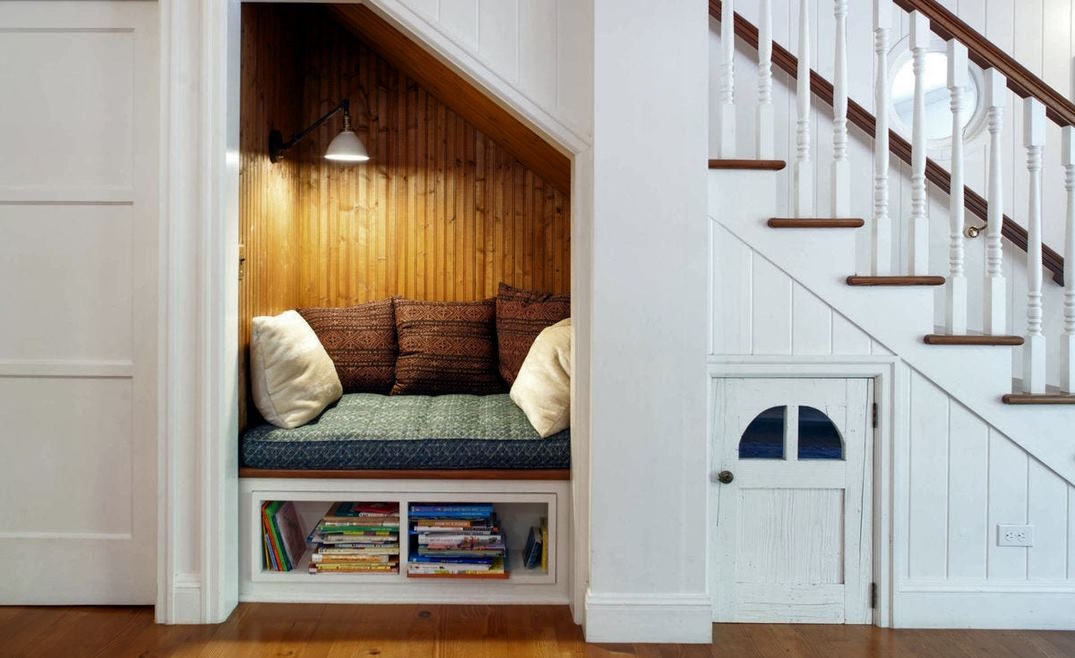 Once you have the materials, it's time to start building. Begin by measuring the space and cutting out the shape that will fit your design. Next, attach the base frame to the wall with screws or nails and finish off with a coating of paint or stain to protect from wear and tear. Finally, add any additional storage features, such as shelves or hooks.
You can further customize your bench with upholstery or cushions for added comfort. This is especially important if you plan on using the bench frequently since it will be exposed to wear and tear over time. However, with some patience and creativity, your DIY under stairs bench will be a great addition to your home, providing additional seating, storage, and comfort.
Maximizing space with a custom under-stairs bench
You can use a woodworking plan to create a custom design that fits perfectly into your home's layout and style. For example, a bench placed beneath the stairs can act as an extension of your living room, dining room, or bedroom, creating additional seating for guests or providing an extra spot for you to sit and relax. Add some cushions and pillows for added comfort, and voila – you have an inviting area to spend time with family or friends! If the space is wide enough, you could even add cabinets or shelves underneath the bench for additional storage.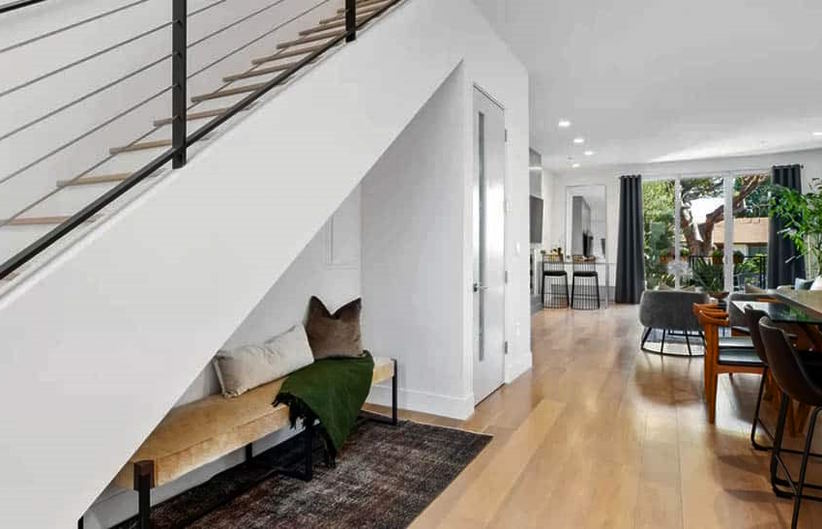 Another great way to maximize under stair space is by installing a bookshelf. A custom bookcase can be designed to fit perfectly beneath the stairs and provide a great place for books, magazines, and other knick-knacks. If you're feeling creative, paint the shelves in bright colors or add some decorative molding to give it a little extra pizzazz. It's also possible to include drawers or cabinets above the open shelf area to store items out of sight but still within reach.
If your stairs have an open side, consider using this space as a mini office corner or study alcove. Add a comfortable chair, desk lamp, and laptop stand if necessary and create your own personal workspace that is conveniently tucked away from the hustle and bustle of everyday life. Screens or curtains can be hung around the sides of the alcove to provide additional privacy.
Transforming the space beneath your stairs into an inviting and functional area is a great way to make full use of all available square footage in your home. With a little imagination and creativity, you'll soon have a unique spot perfect for relaxing, studying, entertaining, or just taking time out.